Our Company
Eskay Yarntex (P) Ltd was established in the 1993 in the capital of India ie New Delhi. Our company is engaged in trading of all kinds of yarns and threads in India. Our offices are spread all over India and are equipped with start of art electronic communications and staffed by an experienced team with many years of knowledge in yarn production and distribution.

At present we are running more then 30000 spindles in South India where we are producing 100% Polyester sewing thread in SHT, Dull , Black and optical white fibre.

Yarn manufactured by us is sold across India in Mumbai, Delhi, Kolkata, Kanpur, Tirupur , Bangalore We are also in trading of all types of cotton , polyester , PC and viscose yarn, sewing thread which we are selling thru our offices in Delhi, Kolkata and Kanpur . Yarn promoted by us are from leading yarn manufacturers in India . Our tie ups and long personal association with the manufacturer helps us in assured supply of quality , services & ofcourse better price.
Following are the major types of yarn that is being promoted:
100% Cotton Yarn (Carded & Combed), 100% Polyester Yarn, Polyester sewing thread, 100% Viscose, Processed yarns(Gassed, Bleached, Mercerized), Blended Yarn (Polyester/Cotton, Polyester/Viscose, Cotton/Viscose Yarn), Cord yarn & special counts.

Eskay started off as a modest venture and has, today attained massive proportions. Urged by the positive response that it has received from its client and the support from suppliers, eskay has expanded its operations by setting up its regional offices in Kanpur, Kolkata and Bhilwara.

Eskay is also venturing into international markets and has set up its international division to bridge the gap between international sources and Indian facilities. At Eskay, we are well aware of the production processes, costs, logistics, quality norms and international standards. Hence it becomes easy to choose the right facility and vendors for the right kind of sourcing.
Our Inspiration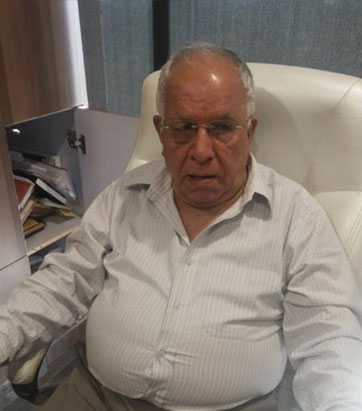 Our Founder Shri K.M Saigal
Our History
Eskay Yarntex (P) Ltd was originally started by our founder Shri K.M. Saigal in Delhi and was originally a proprietor ship company ( Eskay Enterprises ) providing sewing thread consultancy to leading corporates in India and was involved sewing thread trading. His vast experience contributed immensely to growth of company and he was driving force behid the success of company.

After our founder untimely demise, company reins has been taken over by his son Shri Amit Saigal

In 1993, company was converted into Pvt Ltd company & under his guidance company grew to become a yarn trading company dealing in all types of yarn and having regional offices in Kolkata , Kanpur and Bhilwara.

The company also started manufacturing 100% Polyester yarn sewing thread and at present running 30000 spindles in South India and having buy back arrangements with leading spinning mills of India.
Our Vision
Get in touch!
To Become globally acclaimed yarn supplier with an aim to provide services as per customer needs and expectations and by developing long term relationship with suppliers.